August 2015Lightower Closes Merger with Fibertech Networks to Double its Network Reach and Strengthen its Position in U.S. Networking Market
Boxborough, Massachusetts, August 13, 2015 —Lightower Fiber Networks, the premier provider of all-fiber, high-performance networking solutions delivered over its own network, announced today the closing of its $1.9 billion merger with Fibertech Networks. The combined company elevates Lightower's position in the telecommunications industry and further solidifies its leadership role in the U.S. fiber-networking market. The company offers best-in-class, all-fiber solutions combined with award-winning customer support across an expanded service area that now blankets the Northeast, Mid-Atlantic, and Midwest regions of the country.
The combined company will operate under the Lightower brand and serve customers across a service footprint roughly double the size of each independent company. The new Lightower Network offers more than 30,000 route miles of fiber providing access to more than 15,000 service locations, including over 250 data centers, 500+ telco hotels and central offices, 40 financial exchanges, and more than 5,000 wireless towers. A new Lightower on-net building list is available on the company website www.lightower.com.
"Lightower is now the leading all-fiber provider from Illinois, to Massachusetts, to North Carolina, covering an area of the country with over 40% of the U.S. population," stated Rob Shanahan, President & CEO of Lightower. "This merger accelerates Lightower's ongoing expansion strategy and positions us as the premier solution provider in 6 of the nation's top 11 metro markets."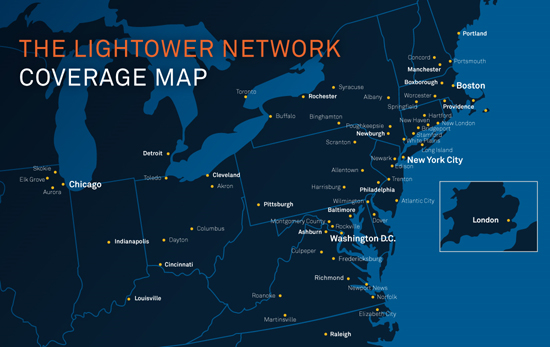 Serving thousands of customers in health care, finance, media and content delivery, government, education, and wireless and wireline carriers, Lightower delivers high-performance networks that support business-critical applications.
"This strategic merger was a natural fit for both networks and both companies," continued Shanahan. "Both Lightower and Fibertech Networks have deep roots in customer-first cultures, which are reflected in service that is second to none in our industry. Of course, superior customer service would not be possible without the most passionate and dedicated employees in the business."
The transaction, valued at $1.9 billion, was funded through a combination of equity and debt. Lightower's existing financial backers, Berkshire Partners, Pamlico Capital, and ABRY Partners, each provided additional equity to support the transaction. Further details of the financial transaction were not disclosed.
Lightower offers a comprehensive portfolio of industry-specific networking solutions including Ethernet, dark fiber, wavelengths, Internet access, private networks, and colocation. For more information on Lightower's best-in-class network solutions, visit www.lightower.com, email info@lightower.com, or call 1.888.LT.FIBER.
About Lightower Fiber Networks
Lightower Fiber Networks is the premier provider of all-fiber, high-performance networking solutions delivered over our own network, enabling award-winning customer support and service reliability. Lightower delivers customized solutions to thousands of customers in health care, financial services, media and content, cloud infrastructure, carriers, government, education, and other large enterprises. The Lightower Network extends over 30,000 route miles throughout the Northeast, Mid-Atlantic, and Midwest, providing dense connectivity to over 15,000 service locations including 250+ data centers and 5,000+ wireless towers. For more information, visit www.lightower.com or call 1.888.LT.FIBER.
###
Source: www.lightower.com
Title: Lightower Closes Merger with Fibertech Networks to Double its Network Reach and Strengthen its Position in U.S. Networking MarketDate Published: August 13, 2015
Date Accessed: August 13, 2015